THE EVENTS OF 2023
Outside of these opening dates, the castle is closed to the public.
Take spell classes in the genuine School of Wizards, Rocher Portail, a dream that finally becomes reality!
Receive your admission letter to the prestigious School of Wizards, located in a large castle in Brittany, not far from Mont Saint Michel.
Upon their arrival, new students (from 4 to 99 years old…) will marvel at the genuine medieval banquet hall of Rocher Portail. They will then be directed to the castle where all the classrooms of the Rocher Portail school are located.
The school tour, Rocher Portail, will transport you into an immersive atmosphere where enchanted objects, special effects, and magical creatures await you.
You, apprentice wizards, will discover the professors' rooms, classrooms, and the dormitories of the students from each house. All these rooms are fully furnished and animated with the most enchanting effects.
The interiors (accessories, furniture, decorations) are not fake but very real, stemming from the castle's history, some of which are over 700 years old!
Rocher Portail is the only School of Wizards in Europe situated in a genuine castle classified as a Historic Monument.
An immersive event surrounding the world of wizards for the whole family (children and adults) in a truly breathtaking location. Thrills guaranteed.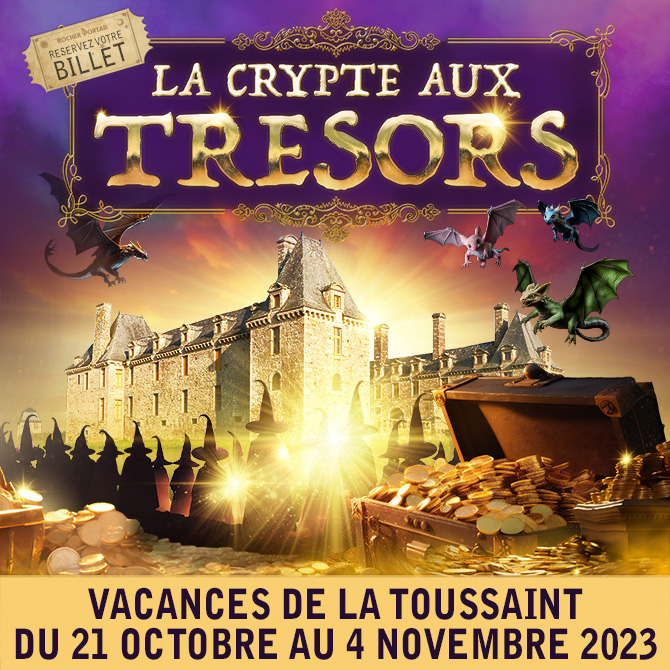 Unprecedented! Discover for the first time the castle's cellars, where the treasure crypt is located, along with the exploration of the school, the banquet hall, access to the garden, and the forbidden forest in the presence of all the professors. On sale for the Heritage Weekend, Saturday, September 16th at 11 am!
Mark it in your calendar now!
2 options:
- Afternoon formula, 2.5 hours of visit.
- Dinner-show fireworks formula, 3.5 hours.