Our shop is 150m2 in size, and it is fully decorated and set up in the theme of the New School of Wizards. You can purchase numerous souvenirs and take beautiful photos and selfies.
Children's and adults' capes, made in France. Le Panache Blanc.
Hats, 100% wool, made in Germany. Leonardo Carbone.
Stuffed animals and mascots, Swedish brand Bukowski.
Handcrafted wands made by Thomas PETITFRERE.
Keychain, leather hat, handcrafted by Awena. @dure_a_cuir
Books (published by Rustica, Mosquito, and Aux bords des Continents).
Keychains, patches, pens, magnets, pins, textiles, and other souvenirs.
Notebooks, posters, and stationery items.
Jewelry.
Decorative items.
And for the foodies:
Candies from Rocher Portail School, the GOBEMOUCHE, which keeps you in a good mood for the rest of the day.
Rocher Portail honey, the ogre's sugar. Harvested by Jeremy TREHU, beekeeper.
Brittany pastries, cookies from LE GUEN and La Mère Poulard.
Handcrafted ice creams.
Drinks and Elixirs.
THE MUST-HAVES
The very first illustrated book of Rocher Portail the New School of Wizards: « Almanach Rocher Portail », was published in June 2023.
In the form of an A5 notebook with 48 pages, it contains 20 illustrated characters. The professors, the fantastic animals, their history, and their favorite magic spells.
Author: Madly ROUSSEL, owner and manager of Château Rocher Portail.
Illustrations: Charlie TAILLARD
An essential souvenir that traces the entire universe of the Rocher Portail school.
It can be pre-ordered from our secretariat for 9.80 euros and collected from our shop on the day of your visit.
Four other books will complement it, forming a collector's box set, available for Christmas 2024.
The first book « Almanach Rocher Portail »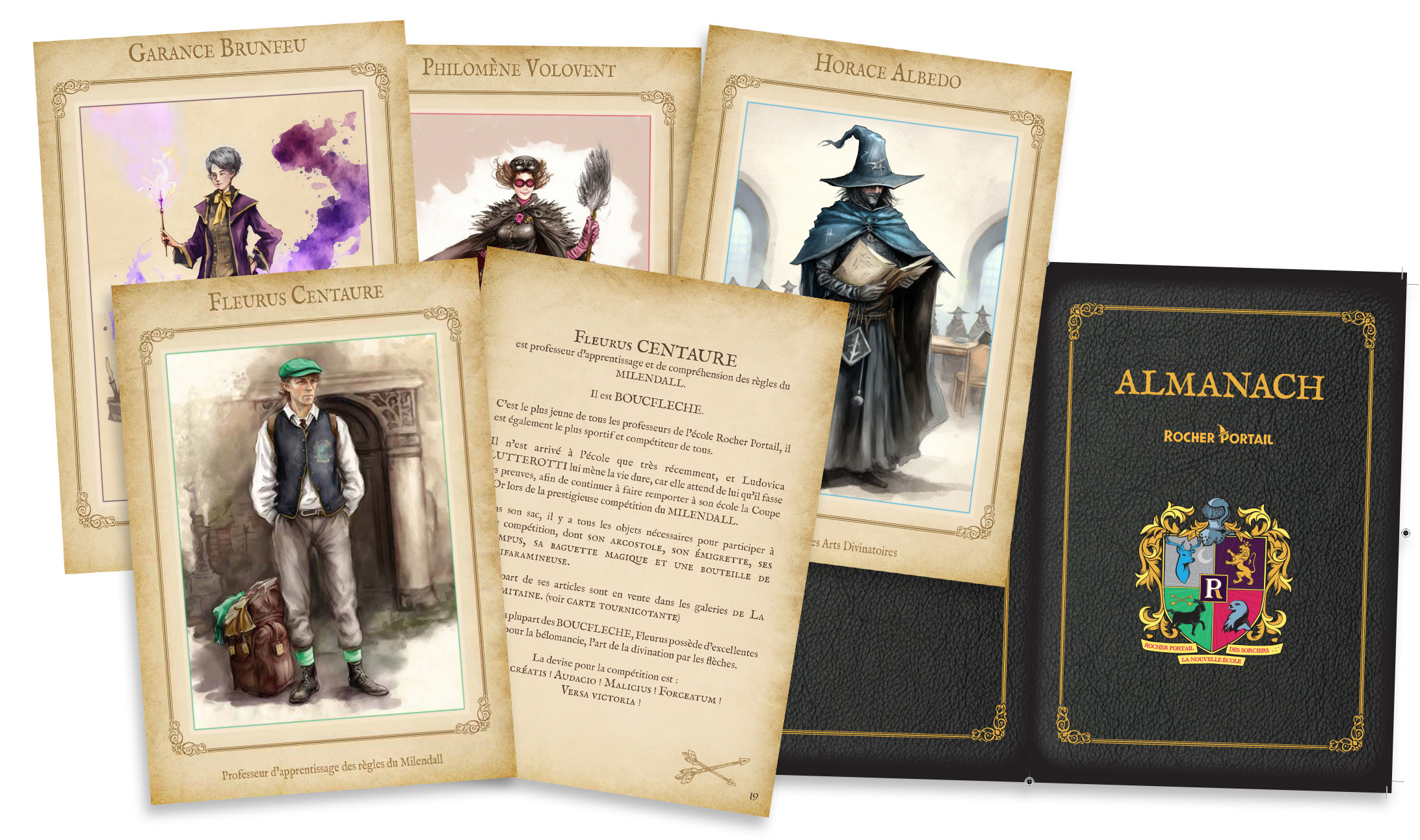 The school's newspaper: The Enchanted Chronicle, in collector's edition.